PS4 Game Controler Wired,With Light Bar&Double Vibraration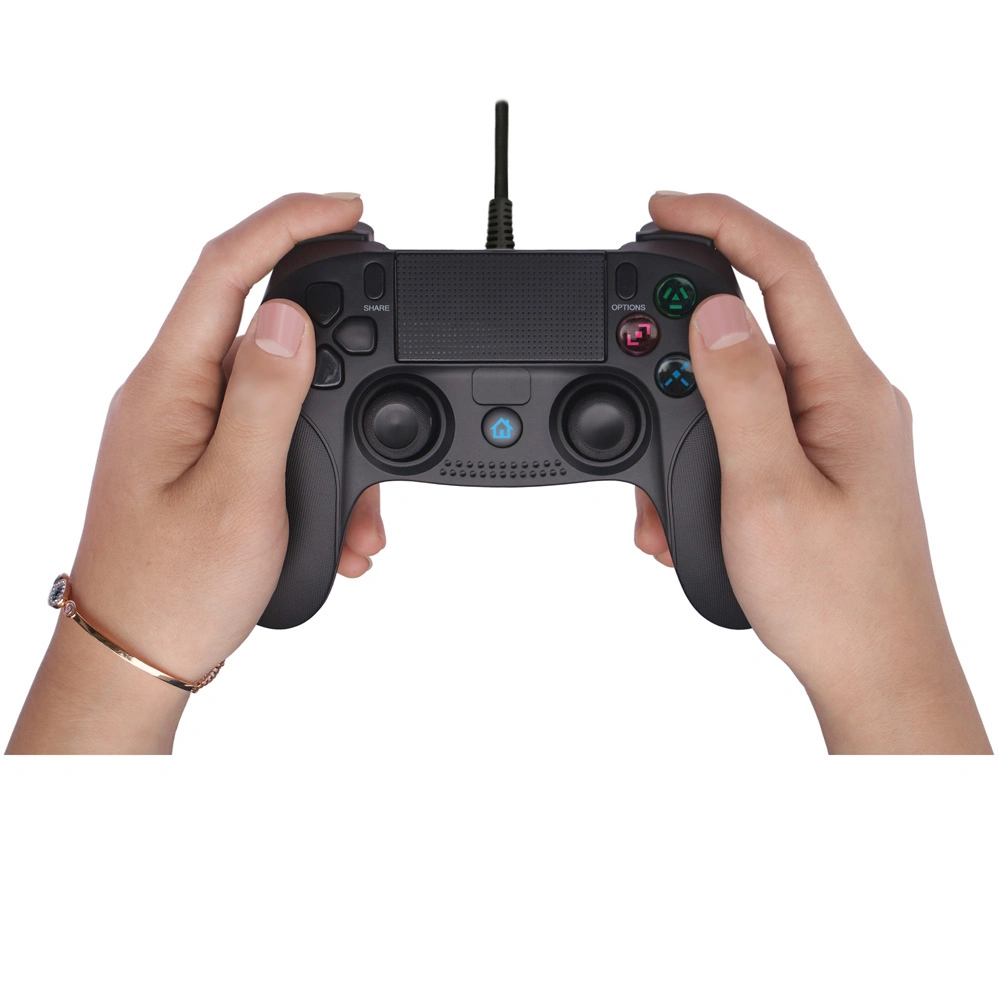 1.USB connection length 2.2M
2. input voltage: DC5.0V
3. input voltage: DC5.0V
4. working current: 20-80mA
5. vibratory current: 80 - 140mA
1.Size:160.5*105.5*68.5mm
2.Net Weight:0.225 kg
3.Bulk Pack Carton/Qty/Weight:
55*40*34cm/50pcs/12.6KG
4.White Box Size/Weight:
16*7.5*11.5cm/0.268kg
5.White Box Carton Size/Qty/Weight:
59*40*33cm/50pcs/14.52kg
6.Color Box Size/Weight:
16.5*6.6*12.2mm /0.28KG
7.Color Box Carton Size/Qty/Weight:
62.5*37*34.5CM/50pcs/15.08KG
1. Product Characteristics
1. This handle is compatible with PS4 host and PC.
2. The wired connection ensures stable signal transmission. The length of USB cable is 2.2 meters.
3. Built-in left-right asymmetric motor, with dual-motor dual-vibration function.
4. Built-in color LED indicator handle channel, and when connected with PS4 host, you can see the color change.
5. This handle can be connected and upgraded on the computer through the upgrade software.
6. The cable handle does not support touch function, gyroscope axis function, earphone and speaker input function.
2. Product Use
1. Connect to PS4 host
1) When the PS4 host starts up and enters the interface, insert the USB plug of the handle into the USB port of the host, then press the PS key of the handle, and the LED of the handle flickers quickly. When the single color LED on the handle is always bright, the connection is successful. Then you can operate the PS4 handle.
2) Handle color LED indicator status description: display player status. Press the key of the small house, the LED light bar will light up in the order of blue, red, green and pink, and configure the controllers to identify the player's login order.
3) At most two line handles can be used at the same time. Different handles are indicated by different colors of LED.
2. connect PC
The USB plug of the handle is inserted into the USB port of the computer, which can be used as the PC cable handle. The PS4 driver needs to be installed. PC does not support vibration function.